This morning, the first day of two weeks off work, not really a holiday but okay, got out of bed at six and turned on the heating. First I fixed the handlebar heater of my wife's bike, throttle side got loose. After that I've decided to take a look at the rapidbike evo that was lying around. Had a bit of an argument with the fuel hose but I convinced it to let go of the tank. So today I've mounted the rapidbike module, organised the wiring I've stuffed underneath the tank and installed the new controller for my handlebar heating. Tested if the bike would run and it did, I'm very glad. Tried to install the tuning software to my laptop, I failed, my laptop sucks a lot. I'll have my way with it tomorrow with some pliers and a blowtorch, oh yeah baby, burn you unwillingly piece of shit.
Tomorrow I'll try to run the software on a different machine and hook it up to the bike. I really want to take of the rpm limiter.
Some fotos.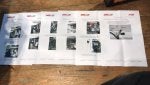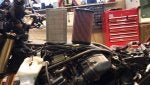 Img doesn't work? Why?